Greetings Arch Hunters...today is Arch Wednesday!

(Issue #11)




Worldwide arch count:

5900 (Change: +32)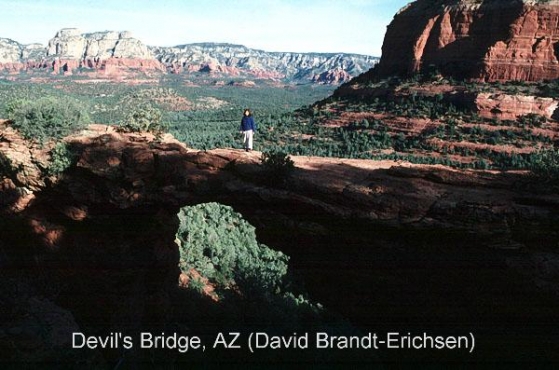 Each week we update the World Arch Database (WAD) with newly reported arches as well as more acccurate data and/or photos for existing arch entries.

Each Wednesday (day may vary), we send you a list of these updated arch entries with a summary of what has changed.
This week we are continuing with our new project: Cross-reference of the WAD with the United States Geological Survey's Geographic Names Information System (GNIS). The GNIS once contained many arch entries that either were not arches or did not have the right name entered, and other errors. Apparently, some folks at the USGS have been hard at work correcting this situation (with the assistance of the Natural Arch and Bridge Society). Not only have they corrected most of the errors, but they have added quite a number of arches which were shown on USGS topographic maps as "Natural Arch" that had never been entered into the GNIS. This cross-referencing work has yielded previously undocumented arches in Arkansas and California. We'll need pictures of these arches, as well as concise GPS data, rock type and etc. GO GET 'EM ARCH HUNTERS!
Next week we'll be doing more extensive research on California sea arches, in anticipation of the NABS 2013 Fall Rally on the California Coast!

But first, a little Halloween fun with arch names...
Our favorite arch name for Halloween is Scared Silly Arch (Arches NP). Another good one is Hooded Spirit Bridge (Anza-Borrego SP, CA). We have a whole bunch of other fun ones, like... Ghost, Dark Shadow, Full Moon, Eye of the Moon, Bat Cave, Blind as a Bat, Bat Guano, Goblin, Hoodoo, Guillotine, Candycorn, and Candy Bar Arches. However, this Devil guy takes all the candy! In the arch world, he seems to have everything he needs. For starters, he has 4 bridges leading through his Gate to his Island, where he has a Coach House, on which he can Perch with his Pitchfork. When he's up there, we can see his Eyes, Face and Backbone. All that devilin' makes a guy thirsty, so he can go inside his Den to his Table and get a drink from his Punchbowl while holding his Jughandle. He can then go the bathroom where he has a nice Potty and a Looking Glass. Ironically, he has no pumpkin or jack-o-lantern because there are no (known) arch names in the entire world using either of these two words.

New additions from GNIS system (search on a location keyword in the WAD):
Research was completed for the US states of Arkansas and California. All arch names are official GNIS names unless otherwise noted.
Arkansas:

Devil's Den (Washington County) and Arch Rock (Pope County).


California:

We now have coordinates for the following arches (where we had none): Peep Sight, Elephant Rock, Keyhole, Temple, Point Bonita, Devil's Pitchfork, Point Arena and Hole-in-the-Rock arches.


California: 30 new entries, too numerous to list individually. Many of these are sea arches in the coastal counties of Del Norte, Mendocino and Sonoma. Also, we have a bonanza of arch entries from Lava Beds National Monument (Siskiyou County). We do not have photos for most of these new entries, so please send photos if you have them to StoneCanyonTV@comcast.net. Thanks to all.

Changes to WAD entries from GNIS research:
Vreeland's 21-6: official name is Blowhole

Errors found in GNIS data: None



Total updates: Somewhere upwards of 40.



Happy Arch Hunting!


yours truly

,


Stone Canyon