Greetings Arch Hunters...today is Arch Wednesday!
Issue 91 - June 20, 2018
Arch Wednesday is your weekly update for arch reports from around the world, as reported to the


World Arch Database




Worldwide arch count:

8535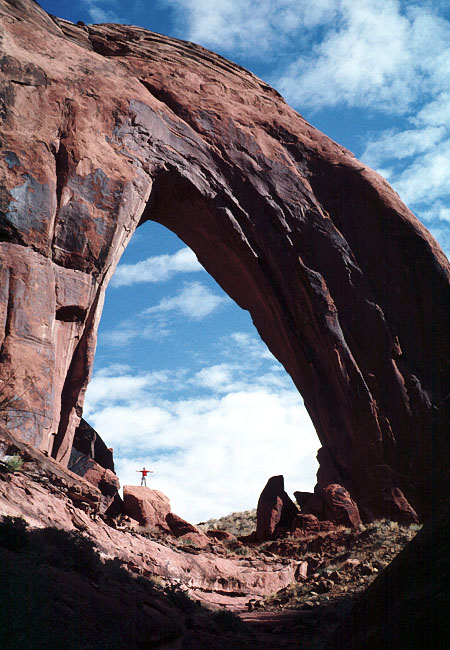 The arch pictured above is Broken Bow Arch (photo by David Brandt-Erichsen). It's located in Willow Gulch, a tributary of the Escalante River (now the Escalante Arm) of Lake Powell, Utah, USA. According to author Robert Vreeland, "the arch was named by a local school teacher who found a broken Indian bow beneath it in 1930."
Enter Stone Canyon and his boating buddy Tim Mullen in the year 1993. Stone and Tim had wanted to visit Lake Powell and its fantastic arches for a long time, but the only boat they had was an old and unreliable one. This particular model of boat was well known for its rubber transom seal, which often rubbed against the outdrive creating a hole in the rubber and so huge leaks were possible. Undaunted and tired of waiting to see the arches, Stone and Tim set out from their home in Denver, Colorado for Lake Powell. They put in at Bullfrog Marina and made their way south to the Escalante Arm. Before they left Denver, they had installed a new transom seal that they figured would at least last for this trip.
They set up a shore camp in the Escalante Arm, spent the night there and then headed for Willow Gulch the next morning. After a hot and brushy hike, they made it to Broken Bow Arch at around noon.
When they got back to the boat, guess what? The transom seal was leaking!!! The water was almost up to the motor, and if that got wet they would be in big trouble in this remote area! The bilge pump would never keep up with that large of a leak. Getting the boat towed back to Bullfrog (a distance of about 35 miles) was not an option because it would just sink in the process.
Tim had heard stories from people who had the same problem. The solution was to remove the plug and run the boat at full speed. The forward momentum would cause the water to gain inertia and run out the plug hole in the back. So they removed the plug and off they went, as fast as that Broken Boat would go!
It worked! By the time they got to Bullfrog, all the leaked water had been drawn out of the boat. But there was another problem: you have to slow down and stop the boat in order to get it onto the trailer at the boat ramp. Solution: Tim stopped the boat quickly enough for Stone to jump out, swim to shore and then run to get the truck and boat trailer into position. Meanwhile Tim ran the boat at full speed around Bullfrog Bay to keep the water out. Time was critical because he only had enough fuel left to run the boat for about 15 minutes.
With a bit of quick jockeying, they got the boat onto the trailer before it sank. Ever since that day, to Stone and Tim, Broken Bow Arch has been known as "Broken Boat Arch." This moniker is actually quite fitting because the opening of the arch is shaped like the BOW of a bowt!
World Arch Database Updates for This Week
Changes or additions were made to the WAD this week for the following locales:
We are still busy cross-referenced all those "100" series numbers in the backs of all of the Vreeland books so our bibliography will be complete. Vreeland describes many of these entries as "not an arch," so we have created a separate database for non-arch features. Once complete, a link to this data will be posted on the public portion of our web site.

More coordinates from David Alexander for arches near Moab. There are so damn many arches!
WAD Tip of the Week


When cruising Lake Powell in your boat, don't get too distracted looking for arches - your boat might be leaking!
SPANOIDS
(arch facts and statistics)
Net Change in Worldwide Count since the last Arch Wednesday: +11
Arches with Photographic Potential Rating of 8 or higher: 805 (a lot to get to!)
Arches with Greater Arch Dimension of 75 ft (23m) or more: 290 (3.4% of worldwide count)
Country with the most documented arches: United States with 7500 (88.0% of worldwide count)
US State with the most arches: Utah with 4432 (52.0% of worldwide count)
US State with the second most arches: Nevada with 510 (6.0% of worldwide count)
Country with the most arches outside the US: Algeria (hundreds of arches) or France, with over 900 according to French arch hunter Guilain Debossens.
Fallen (Worldwide): 48 (0.6% of worldwide count, of which 29.2% were sea arches)

Data Projects
SPAN Cross-Reference update
We will be cross-referencing and updating the WAD with data and photos from SPAN, the newletter of the Natural Arch and Bridge Society.
Happening now:
Nicholus Terzakis Archives Cross-Reference: We've begun the process of cross-referencing the WAD with the lifetime collection of arch data and photos from arch hunter Nicholus Terzakis.
Larry Beck's New Mexico Archives:
Arch hunter and current NABS President Larry Beck's compilation of New Mexico arches are being added to the WAD. We already include hundreds of New Mexico arches submitted by Mr. Beck, but he has found hundreds more since our last data dump in 2008. Plus he has submitted data and photos for updating existing arch entries.
Arch Hunting Expeditions, Rallys and Events
The Natural Arch and Bridge Society is planning another arch rally, this time in the San Rafael Swell and San Rafael Reef of Utah, during the fall of 2018. Stay tuned!

This fall Stone Canyon Adventures will be making another attempt to reach Kolb Arch in the Grand Canyon via a route that dumps straight off the canyon rim at Point Imperial. This route is less than 3/4 mile, but in that 3/4 mile we drop over 2200 vertical feet! The only other way to reach this arch is via a multi-day backpack down the Nankoweap Trail. And from that route, one cannot get right up to the arch anyway.
Happy Arch Hunting!


yours truly

,


Stone Canyon